ALCOA, Tenn. (WVLT)– An East Tennessee war veteran got his freedom back. The amputee was a prisoner in his own home; unable to get down the stairs in his wheelchair — until now.
"Gets me out of my house," Steve Lundy, a war veteran from 1976, said.
The Alcoa veteran relies on a wheelchair to get around, but had no way of getting down his front steps
Thanks to veterans helping each other, that's no longer the case.
"Oh my god, why me?" Steve asked. The 65-year-old was born with poor circulation in his legs. He served overseas in the 1970's, but with trouble walking, he was honorably discharged.  In November this year, with Steve's life on the line, doctors amputated. [read more="Click here to Read More" less="Read Less"]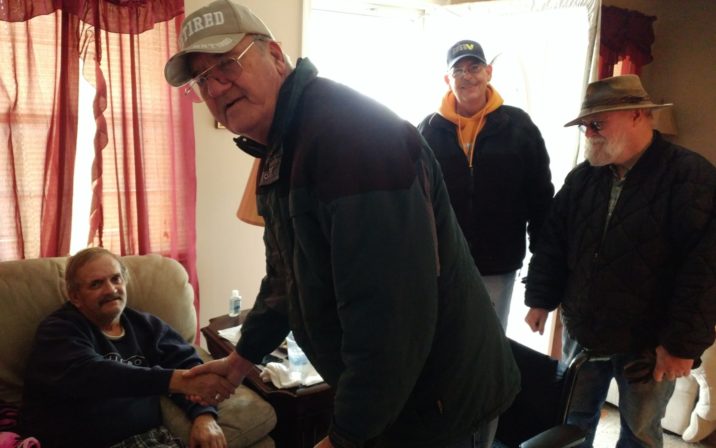 "If it's my time to go, then it will happen on the table. Thank God I came out of it," he said. And the fight isn't over. "Now my right toe is getting black."
With the possibility of becoming a double amputee, Steve said he needs all the help he can get. Which is why just a ramp means getting his life back.
Ed Junod is President of Vet to Vet Tennessee said they have helped ten (10)veterans in the last 12 months who were in need in Blount and Monroe Counties. Even though the wheel chair ramp construction on Steve's home is done, the project is far from over.
The "Repairs for Heroes" program was created  by Vet to Vet Tennessee in September 2017 as a joint venture pilot program with Blount County Habitat For Humanity.   Since then VTVT has partnered with Amvets Post 22 and Monroe County Disabled American Veterans Post #93.
VTVT funded the project and was supported by the Alcoa Disabled American Veterans Post #76 Mike Kennedy, Ron Hansen, and James Lawson and Shore Building Inc Carpenter John Garland and his son John J. Garland and Steve's friend Bryan Adkins.  We are also grateful to Nathan Weinbaum, Blount County Veteran Service Officer for referring Steve to VTVT.
"We not only repair the home, but help repair mind, body, spirit," Junod said.
You can connect with Vet to Vet Tennessee (VTVT) by contacting (865) 336-2624 or by logging on to www.tnvhc.org.
Junod also reminds veterans of the Department of Veterans Affairs (VA) HISA program, or the Home Improvement Structural Alteration.  If veterans need a wheelchair, the VA may help pay for home improvements before the surgery takes place.  Click here to view the VA's HISA requirements.
Click here to view more photos.  [/read]