February 2013, the Knoxville Regional Mental Health Council voted to start a new committee to research Veterans Treatment Courts.  In April 2013 the Council and the Knox County Drug Court partnered to begin a Veterans Treatment Court (VTC) program.  Without any federal or state support, the Council launched the Knox County VTC in May 2013.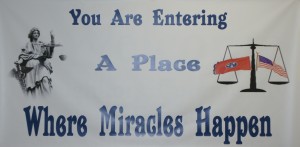 Our vision and mission found state support in July 2013, when the Tennessee Supreme Court Administration of the Court (AOC) provided a grant to send members of the Council committee to the inaugural VTC Convention, which included and first VTC mentor boot camp, sponsored by Justice For Vets.  The convention was held in Washington D.C. in December 2013.
From: Chuck Cerny
Sent: Wednesday, December 10, 2014 1:20 AM
To: Ed Junod
Subject: Motto background "All we can do is help"
Here's my best shot, Ed!!!
Jeff came to us from Shelby County Veterans Treatment Court.  He is an Army veteran, and a police officer.  He was charged with a crime.  He would have an opportunity to get his law enforcement career back and deal with his criminal charges if he could complete a Veterans Treatment Court (VTC) program.  The problem was, Knox County didn't have a veteran's treatment court.
That's when we stumbled into our motto: "all we can do is help!"
The Knoxville Veterans Mental Health Council's VTC committee came to Ron Hanaver and Judge Chuck Cerny and proposed starting a VTC.  Knox County had at that time a "drug court" or "recovery court" already in existence, and the court itself was "recovering"!  There had been some unfortunate events, and although recovery court staff (the director, the case manager, and the counsellors) was and is doing a beautiful job, it would have been a risk to take on the creation of something new, and it could have been, simply, bad timing if something went awry with a new project that's outside the scope of what drug court had done right in the past.
Nevertheless, the Council went to Ron and Chuck.  We wanted direction and help to set up a separate VTC in Knox County.  After much discussion, soul searching and work, we came up with the idea that we would create a veterans treatment track, running that program in tandem with the existing recovery court, using the staff and facilities already in place.  It has worked beautifully!  We discovered that our veterans have been a very beneficial addition to the recovery court community!  The veteran mentors have helped tremendously, assisting veterans and regular participants as well.  And here's the point:  we would probably not have had a VTC, and we would not have a VTC graduate, if we hadn't said "all we can do is help."
We looked at the risks, we looked at the additional work (which is extremely minimal) and then we looked at an individual human being who needed the help we could provide.  We thought about what could possibly go wrong, but then we thought about Jeff, and we figured that, especially in his situation, we couldn't hurt him, and it sure would have harmed him if we hadn't tried to start a veterans treatment track, and we figured, well, "all we can do is help!"  Remember, Jeff is not just a human being who needed our help, Jeff is a veteran who unselfishly served this country in the military.  Now Jeff is our first graduate!
So even if we only had one veteran in our VTC, and even if we only have one graduate, and after Jeff, even if we never helped another veteran and we shut VTC down, we knew that the only real alternative was to try!  Try to help a veteran who needed us.  Try to overcome the obstacles, try to learn how to do VTC, even if it meant that we would help only one.  We figured "all we can do is help!"
DON'T LET FEAR STOP YOU FROM DOING SOMETHING THAT COULD REALLY POSITIVELY IMPACT YOUR COMMUNITY!!!!!
So, I want to encourage you to logically and realistically assess the risks, take into account the minimal additional work, and discover that it cannot hurt anyone, any county, or any recovery court program to try to incorporate a veterans treatment track.  We will help you with training mentors.  We will help you with organization and a policy manual.  We will help you any way we can.  You can't really can't hurt anything.  We all may be reassessing and making changes to accommodate what we have learned in say, a year or two.  But there is really minimal risk.  You really won't be hurting anything at all!  All you can do is help!!!

God bless and take care!
Chuck Cerny