Nick Stefanovic, US OEF/OIF Marine; Rochester NY Veterans Treatment Court graduate.
"For me, the battle began when I came home. Judge Patricia Marks and the Rochester Veterans Treatment Court (VTC) team saved my life." Nick Stefanovic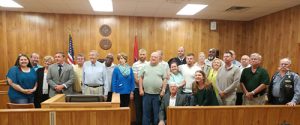 A good percentage of Americans, including the Judicial members, believe that treatment courts are soft on crime and some believe the Veterans Court enables justice involved veterans to stay out of jail.
Please view Nick's video and decide for yourself if VCs work!
The Knoxville Regional Veterans Mental Health Council and Vet to Vet Tennessee  (VTVT) co-founded Veterans Courts in Eastern Tennessee. Since then VTVT has helped and supported 12 Veterans Court. If you are interested in more information leave us a message below or call our office at 865-336-2624.