May 23, 2018.  Madisonville, TN.
Air Force veteran Keith Duncan completes the Monroe County Veterans Court (VC) program with the support and care from Helen Ross McNabb Military Services Center Clinical Therapist Tony Weaver, Monroe County VC Judge Dwaine B. Thomas, Vet to Vet Tennessee (VTVT) VC Mentor Coordinator Bob Hatley and VTVT mentors.
Members of the Monroe County DAV, council members of the Knoxville Regional Veterans Mental Health Council and several mentors attended the celebration.  Also in court this afternoon were members the Court Appointed Special Advocates (CASA) program.
After the graduation, Judge Thomas asked VTVT members to stay to witness the swearing in of three new CASA volunteers.   The court also recognized that Vet to Vet Tennessee is now assisting veterans in the family court/DCS system.  A partnership between CASA and VTVT will be very beneficial to the children of Monroe County.  Click here to view the graduation photos.
Congratulations Kevin!  Pay it forward.  Thank you Monroe County for caring for your citizens.
The Knoxville Regional Veterans Mental Health Council and Vet to Vet Tennessee were the co-founders of the first Veterans Treatment Court (VTC) in Eastern Tennessee.  The first justice involved veteran entered the first VTC in January 2014.
Click here to learn how "All we can do" motto opened the first court.
VTVT has dozens of "Justice For Veterans" certified VTC mentors and coordinators who support over 10 Eastern Tennessee Counties.
Nick Stefanovic, US OEF/OIF Marine veteran, presented his VTC journey in front of over 2,000 attendees at the inaugural Veteran Treatment Court Convention in Washington D.C. in December 2013.  89 mentors were the first to be trained by Justice For Vets and became the first VTC Mentor Corps.  His mission was and is an inspiration to all of the VTC mentors.  Listen to Nick's message.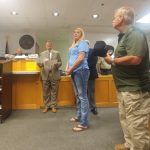 Latest and first female veteran graduate from the Loudon County Veterans Court in August 2017.
Help us continue to support and provide VTC mentors, housing, SUD and mental health resources and comrade support to our heroes in need.
Donate Now!