Mountain Home VA Medical Center (MHVAMC)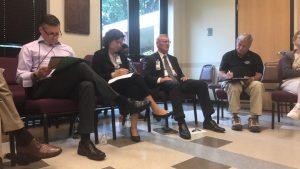 Mountain Home VA Medical Center Leadership attending a Council meeting on August 10, 2017. Left to right: Dr. Andrew Sexton, Dr. Elizabeth Bishop, Mr. Dean Borsis, and council member Randy Scott.
Director of Mountain Home MHVAMC.  Dean B. Borsos has been appointed the medical center's new director and will oversee delivery of health care to more than 170,000 veterans living in a 41-county area of Tennessee, Virginia and Kentucky.  Mr. Borsos has 20 years of experience in managing health care systems and business operations with 10 years at the Department of Defense and Air Force.  He also served as vice commander for the Air Force Medical Support Agency.