December 6, 2016  Knoxville, Tennessee
Vet to Vet Tennessee received an electronic copy of the Helen Ross McNabb' 2016 Annual Report.  Featured on front page is Michael McGrail, USMC, Graduate of the Loudon County Veteran Court and one of the first veterans who completed the new Helen Ross McNabb Military Services (HMMS) program.  Not only is he featured on the front page but has a featured story on page 15. Please click here to review the McNabb report.
The Knoxville Regional Veterans Mental Health Council and Vet to Vet Tennessee are very proud of Michael and USMC James Wood for their hard work and dedication to their own recovery.  Dr. Melissa Rose, McNabb's therapist, successfully facilitated their treatment plan (tx);  James & Michael were the first 2 Loudon County Veterans Court veterans to graduate after completing their tx with HMMS..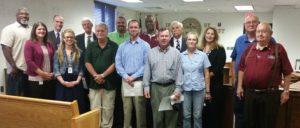 From left to right bottom row: Helen Ross McNabb Director of Loudon County Services, Amber McMillian, McNabb Military Services HMMS Therapist, Melissa Rose, M.Ed., V2VT Vice President Randall Scott, LCVC graduates James Wood and Michael McGraile, Michael's wife Cindy and V2VT Secretary & 10th Judicial District Veterans Court Mentor Coordinator Robert Hatley.
Top row from left to right:HMMS Clinical Therapist John Chandler, Department of Veterans Affairs Mountain Home VAMC Director Daniel Synder, Chairman Ed Junod, Council Member Robert Cooter, V2VT President Freddie Owens, Loudon County Veterans Service Officer Edward Navvaro, V2VT member Rebecca Phillips and Council Member Don Davis.  Photo taken by Council Member Sheryn Davis.