Robert Cooter served in Desert Storm as an Navy Aviation Ordnanceman Third Class with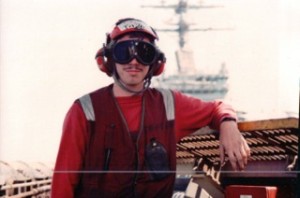 Attack Squadron 36 (VA-36). I am currently enrolled to start fall 2014 in the Sociology Program at UT Knoxville with a Concentration in Criminology. Robert is married to Karen almost 16 years and has three children Brittany 24, Scotty 20, and Morgan 13. Scotty recently enlisted in the Army National Guard as a 91B with the 253mp squadron in Lenoir City.
Robert has been a member of Legacy Peer Support Group and recently signed up to become a Peer Facilitator. He attends the Vietnam Veteran group on Monday and the Desert Storm/OEF/OIF group on Wednesday. Robert is a member of our PTSD law enforcement training program and will participate in the training.
Robert was nominated as the Knoxville Regional Veterans Mental Health Council member on August 11, 2014 and received a unanimous vote to be the Council first Desert Storm member.
We welcome Robert to our Council, Vet to Vet TN and LPG. It truly is an honor and privilege to have such a great man on our team. Welcome aboard. Aye Aye Sir!