January 3, 2017 Morristown, Tennessee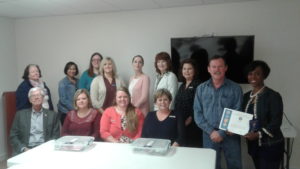 Vet to Vet Tennessee (V2VT) partners with tier 3 "We Honor Vets"  (WHV) partner Smoky Mountain Home Health and Hospice (SMHHH) to help improve the quality of end of life for the veteran and their families.  Our first meeting of the year was attended at the Morristown SMHHH office with 15 social workers from all six of SMHCH office in eastern Tennessee. SMHHH is a partnering agency in "We Honor Veterans," a joint program of the National Hospice and Palliative Care Organizations and the Department of Veterans Affairs (VA).
SMHHH joined the national movement to support veterans at the end-of-life, so that all men and women who served our country may live their final days in dignity and peace.  To help improve the quality of the end-of-life program,  By recognizing the unique needs of our nation's veterans who are facing life-limiting illnesses.  As a WHF's and SMHHH is able to accompany and guide veterans and their families toward a more peaceful ending.
On 1-3-17 V2VT approved SMHHH as V2VT Vietnam Nam Commemoration (VWC) presenters. This partnership has trained the 15 attendees to present the VWC Presidential proclamations and lapel pins to the veteran while in SMHHH care.  The SMHHH presenters can present the VWC Certificate of Honor to the spouse of the veterans after the time of death.
Michael McGrail, USMC V2VT mentor and Ed Junod, Army, V2VT Treasurer were the 'VWC presenter training " instructors.  Michael had a special reason to participate; he wanted to personally thank hospice care givers for their dedicated care.  Michael's Vietnam Nam veteran father just passed away in December 2016.  The 90 minute training was well received.  At the end of the session, many were going to present the veterans with their VWC material immediately after.
We want to thank SMHHH Medical Social Worker Kelly Drake for all of the arrangements.  Click here to learn more about SMHHH.