March 8, 2018 Knoxville, Tennessee
Debra Cohan, the Department of Veterans Affairs Knoxville Outpatient Clinic's Suicide Prevention Coordinator, attended the regularly scheduled Council meeting on Thursday March 8, 2018 to discuss the Council and Vet to Vet Tennessee's new suicide prevention program.
Debbie has been a major component of the Council and VTVT's suicide prevention program since its inception four years ago.  The clinic and their veteran clients & families has received outstanding support, courage, hope and guidance from on of the best suicide prevention coordinators in the country for almost a decade.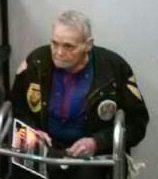 In recognition of  Debbie's service to veterans and their families helping them overcome adversity, the Council and VTVT bestowed to her the Jospeh "JL" Tucker Memorial Award.
In the tradition of JL, she has served in faith, found the capacity within herself to give and has cared more generously than most. Debbie has shared as JL did, the strength to overcome barriers for the good of those who suffered–and continue to suffer–defending our freedoms.
We salute Debra Cohan! God bless here, and God bless the United States of America.