June 24, 2017 Knoxville, Tennessee
It has been 64 years since the Korean War ended with a cease-fire.
For years, Korean War Army Veteran Rex Davis organized a reunion luncheon. Rex died on May 22, 2017. After he died, the Knoxville Area Korean Association decided to take over the luncheon and asked for support from Vet to Vet Tennessee (V2VT)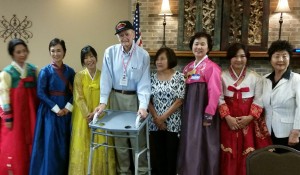 "Since he passed away recently, Knoxville Area Korean Association and V2VT wishes to continue the event in his memory with his passion for Korean War Veterans. Most of Korean War Veterans are over 80 and there are not many of them around now. As Korean, we want to show our appreciation to the veterans and remember them what they have done for us," said Gina Phillips, Vice President of the Knoxville Area Korean Association.
This year's luncheon was held on Saturday, June 24 at 10:30 a.m. at Bearden Banquet Hall.  June 25 marks the day of the 1950 invasion of South Korea and the allied support of the U.S. Military.
Phillips said the annual reunion keeps Korean War Veterans connected and the memory of the "Forgotten War" alive. She said stories and memories will be shared and the veterans will be celebrated.
"We're trying to carry on his spirit. We're the ones that are appreciative of the Korean War veterans," said Phillips.
V2VT joined the reunion three years ago and continues to provide volunteers and support to the heroes of the Forgotten War.  Many of the volunteers were members of V2VT: Barbara Scott, Don Davis, Freddie Owens, George Howell Jr., Linda Fletcher, Randall Scott, Robert Hatley, Sheryn Davis and Ed Junod as MC.  Freddie Owens and numerous members of his church, Redemption Church International attended including 5 teenagers.
Click here to view the reunion agenda, honored guest and supporters. 2017 Korean War Veterans Recipients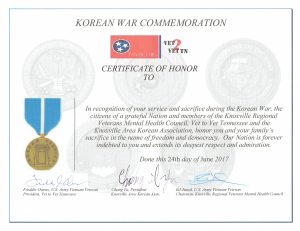 Korean War Commemoration Certificates of Honor were presented to 41 US Korean War Veterans.  V2VT also presented 22 Korean Veterans with the Vietnam War Commemoration presidential proclamation.  V2VT also provided all of the Korean War Veterans with an application for the Republic of South Korean's Ambassador for Peace Medal.
Click here to view photos
V2VT is honored to be a partner of the Knoxville Area Korean Association and want to especially thank President Chong Yu and reunion organizer Jean Watkins for an outstanding event.