October 29, 2016, Cookeville, Tennessee
Vet to Vet Tennessee (V2VT) met with Pastor David & Susan Torres, Unity Church of the Cumberlands, during V2VT's Vietnam War Commemoration's Cumberland Plateau Pow Wow.  Pastor Torres is an Air Force Vietnam Veteran and is eager to help identify Veterans & their families in their community.  Pastor Torres signed the Veteran Friendly Congregation (VFC) enrollment form on 10-29-16 and agreed to become a Lead Congregation.  Unity Church is V2VT's 20th VFC and 14th Lead Congregation.  The enrollment form will be forwarded to the Military Chaplains Association (MCA) and will be added to MCA's Veteran/Military Friendly Congregation Ministry (VMFC).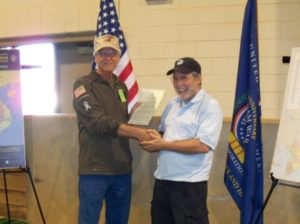 Pastor Torres was presented the Vietnam War Commemoration pin and presidential proclamation.
V2VT will be supporting Pastor Torres in developing a Cookeville V2VT outpost.    Unity Church of the Cumberlands has been approved to be a authorized V2VT Vietnam War Commemoration Partner presenter.  Jim Sower, USMC veteran, lives in Cookeville and is a member of V2VT.  We are blessed that Jim made the connection with Pastor Torres.  Semper Fi.
Unity Church vision "We are building a foundation of love and trust that invites growth for us individually and collectively by creating a place where all people can come to know their oneness with God."  Click here to view their website and learn more about them.
Please share your comments and gratitude by leaving Pastor Torres a message below.
[contact-form-7 404 "Not Found"]