August 2, 2017   Loudon, Tennessee
'1st Female Graduate from the Loudon County Veterans Court
Loudon County, Tenn. – Loudon County Veterans Court (LCVC) held its 9th graduation ceremony Wednesday, August 2, 2017 at the Loudon County Courts Complex in the courtroom of General Sessions and Veterans Court Judge Hank Sledge. Judges Dale & Sledge and General Johnson began the Veterans Court in September 2015.  The courtroom was filled to watch this historic event for the Ninth Judicial District.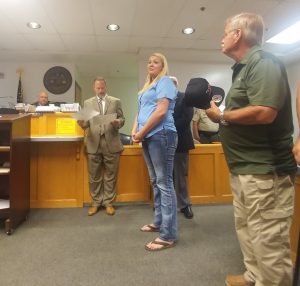 From left to right:  Loudon County Veterans Court (LCVC) Judge Hank Sledge, 9th Judicial District Attorney General Russell Johnson, LCVC graduate Chelsya Thomas and Vet to Vet Tennessee Vice President and Mentor Coordinator Randall Scott.
Loudon County 13th Veteran Court graduate, Army National Guard Chelsya Thomas, told his story about how her life changed with Veterans Court. Chelsya was grateful for the LCVC and thanked LCVC, Helen Ross McNabb Military Services Center Clinical Therapist Tony Weaver and Vet to Vet Tennessee (V2VT) and V2VT Mentor U.S. Army Captain (Ret) Mary Ann Tackett for their support and guidance. "This program saved my life!"
"With great joy I wish to inform you that C.T. has met her individualized treatment plan goals at Helen Ross McNabb Military Services.  C.T. enrolled in our 6 month therapy program on 23 January 2017 for alcohol abuse treatment.  Over the past 6 months she has demonstrated a keen insight into precipitants leading to former alcohol abuse and has learned the physiological and mental effects of that behavior.  Additionally, C.T. has learned and implemented skills necessary to live a life of sustained long-term recovery.  It has been my honor to walk alongside her during this brief part of her journey and I wish her nothing but continued success."  7-12-17 Helen Ross McNabb Military Services Center Therapist Tony Weaver
Loudon County 14th Veteran Court graduate, Marine Veteran William "Scott" Martin, told his story about his opportunity to cope with the support and leadership the LCVC staff, Helen Ross McNabb Military Services Center Clinical Therapist John Chandler, V2VT Vice President & Mentor Randall Scott and V2VT.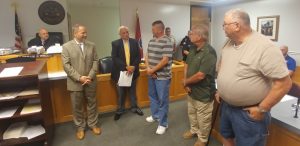 From right to left: Loudon County Veterans Court (LCVC) Judge Hank Sledge, 9th Judicial District Attorney General Russell Johnson, Loudon County Veterans Service Office Edward Navarro, LCVC graduate Scott Martin, Vet to Vet Tennessee Vice President & Mentor Coordinator Randall Scott. and V2VT Mentor Don Davis.
Click here to view more graduation photos.
Ed Navarro presented Chelsya and Scott with a certificate from Loudon County, Knoxville Regional Veterans Mental Health Council and Vet to Vet Tennessee for their efforts. Mission Accomplished!
Also present in the courtroom was Vern Vargo, a Vietnam Army Combat Medic & one of the original 23 members of Vet to Vet Tennessee.  Vern has decades of experience with SUD and mental health issues and has offered his services to the Veterans Court.
The Global War on Terror has exacted a tremendous toll on America's service members and their families. The country's longest war has been fought repeatedly by a minuscule percentage of its population; never has such a monumental burden fallen on the shoulders of so few. The psychological trauma and ensuing problems caused by years in some of the most hostile conditions imaginable can lead to catastrophic consequences in all facets of an affected veteran's life, leading to broken family relationships, homelessness, unemployment, and even incarceration.
PTSD and TBI certainly do not excuse criminal behavior, it is clear that imprisonment alone will not only fail to remedy the underlying causes
Regardless of the exact number of GWOT veterans incarcerated today, it is clear that with up to one million GWOT service members suffering from mental disorders that can lead to criminality, the number of veteran offenders will continue to grow. The war will wind down, troops will come home, and the military will shrink
by discharging hundreds of thousands of veterans into civilian society without an adequate support structure to address their mental health needs, difficulties with reintegration, unemployment, and a host of other issues. In fact, many troops may not even experience difficulties for several years after their service, suggesting that the worst may be yet to come.[i]
Participation in a VC is voluntary, and defendants must agree to comply with the courts conditions, such as undergoing mandatory treatment for substance abuse or mental health issues, obtaining housing and employment, and attending any requisite therapy sessions for the duration of the program. [ii]
The Veterans Court's admissions standards rank among the most inclusive in the country.  This ensures that those veterans whose crimes may be most connected to their military service can turn their lives around. The Ninth Judicial Districts is allowing for consideration of military service during criminal proceedings would recognize veterans' sacrifices while acknowledging that their crimes may result from underlying issues caused by their service. Veteran Courts benefit society by reducing financial costs associated with incarceration, increasing public safety, and providing justified individualized treatment to men and women who, in the words of Judge Bostick, volunteered to "go anywhere I am sent, do anything I am commanded, and signed that blank check to Uncle Sam, payable with my life if necessary, in service of our country." [iii]
Vet to Vet Tennessee Veterans Court data to date:
Graduation rate, 96% – Justice involved veteran (JIV) has successfully completed the TX and has not returned to the justice system
Dropout/termination rate, 20% –  JIV has intentional removed him/herself from VC or has been terminated for TX non-compliance by either HRMC or V2VT and returned to the court.
Please help us stop veteran suicide, homelessness, and incarceration.  "Do Something!"
[i] Logsdon & Keogh, supra note 7, at 20 (remarking that one study found that most arrested former troops had been discharged from the military for over ten years prior to arrest); see also Berenson, supra note 11, at 38 ("Traumatic brain injuries . . . are difficult to diagnose and treat and may not present symptoms until well after the injury."
[ii] Spectrum Dep't, Second Chance for Vets, 73 TEX.B.J. 810, 810 (2010).
[iii] Alabama Shelby County's Eighteenth Judicial Circuit Court Judge Bill Bostick