July 18, 2017 Alcoa, Tennessee
Richard Presley, member of the Veteran of Foreign Wars (VFW) Post 10855 in Alcoa,  invited Vet to Vet Tennessee (V2VT) to honor and present the Vietnam War Commemoration (VWC) Certificate of Honor and NEW VWC Blue Star lapel pin for three spouse whose veteran died after their return from Vietnam.
This event marked another milestone for V2VT.  The first milestone that evening:
Recognizing and presenting the NEW Department of Defense Vietnam War Commemoration Surviving Spouse Blue Star Lapel pin.  Partners of the DOD have been waiting for the distribution since October 2016.
The first blue star pin was awarded to Sandy Thomas!  Sandy's husband George Thomas, was a Vietnam Veteran and one of the original 23 members of the PTSD work group.  George was the first member of the work group to pass.  Because of his dedication to his country, family and the group, his continued service & sacrifice, his faith and leadership, the group was renamed in George's honor.  The new name was the Legacy Peer Support Group.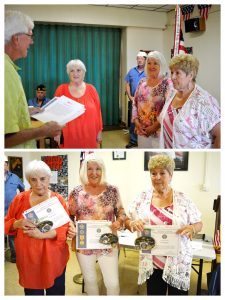 Two other VWC Certificate of Honor recipients also received their awards: Harlean Nolan and Maria Hopkins
If you know of any spouse whose veteran served in the military between 1955 and 1975 and died after returning from service and want to receive the Vietnam War Commemoration Certificate of Honor and Blue Star lapel pins please contact us at 865-336-2624 or leave us a message below.  A grateful nation wants to thank you.