Vets get an overdue welcome home
July 29, 2017 Lewisburg, Marshall County, Tennessee
Marshall County veterans who served during the Vietnam War (1955 – 1975) got what some feel is a long overdue welcome home on Saturday at Rock Creek Park with the support from Vet to Vet Tennessee.
The official Welcome Home ceremony is part of the nation's observance of the 50th anniversary of the Vietnam War.
"We want to recognize all of these veterans honorably and do what's right by them," said Larry McKnight, one of the organizers of the event.
This ceremony is one of thousands being held across the nation to make sure that these veterans, whose service was not always honored at the time, are recognized. This event is Vet to Vet Tennessee's 111th event since July 8, 2016.
Organizers applied to be and were recognized as an official commemoration partner in the Department of Defense's United States Vietnam War Commemoration.
"A lot of these guys are really excited by it," said McKnight.  Click here to view the photos of the event.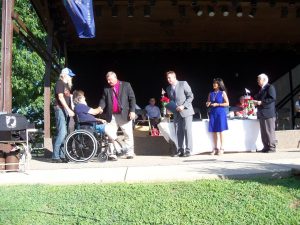 Tennessee Commissioner of Veterans Services Many Bears Grinder was the guest speaker.  Special guest included TN Representative Rick Tillis, Marshall County Mayor Joe Boyd Liggett, City of Lewisburg Mayor Jim Bingham, Town of Chapel Hill Mayor Danny Bingham, Town of Cornersville Mayor Melisa Peters, District Five Cdr f VFW – Hundley Ford, Cdr of Local American Legion – Richard Gunther, Cdr of DAV -Ralph Dietz, Moms On A Mission (Moms) – Barb Blackmore, Veteran Service Officer- Sgm (Ret) Freda Johnson, Lewisburg Police Department and Knoxville Regional Veterans Mental Health Council Ed Junod.
"We want to have a little formality to it," said McKnight. Click here to view the full agenda.
Each vet received the Vietnam War Commemoration (VWC) lapel pin signifying their service as well as a presidential proclamation recognizing their service.  The VWC material was provided by Vet to Vet Tennessee.
The County Mayor Joe Boyd Liggett read and presented the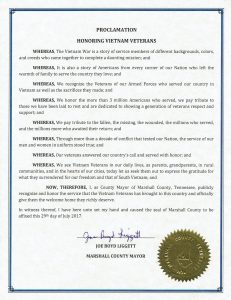 honoring Vietnam Veterans.
The event included a table of remembrance, honoring Marshall County residents who died during the war or veterans of the conflict who have passed away since.
Eligibility is open to any active duty veteran who served from 1955, the first establishment of military advisors in Vietnam, to 1975, whether their service included time in Southeast Asia.
McKnight said that the local organizers worked "aggressively" trying to contact eligible county veterans. As of Monday, he said they had a list of 115 veterans and were still discovering more.  McKnight said that they would like to use this event as a springboard for a regular, annual recognition.