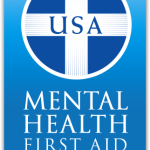 FOR IMMEDIATE RELEASE                                    Contact: Ron Morton: ronald_morton@bcbst.com
October 3, 2014
Knoxville Regional Veterans Mental Health Council Hosts Area's First Local 'Mental Health First Aid' Training for Veterans and Family Members

Similar to 'First Aid' and CPR, 'Mental Health First Aid' helps those experiencing mental health problems before they can get professional help and support
WHO:            KVHC and 20 local veterans and family members
WHAT:           First-ever training on mental health first aid for Veteran in Knoxville
WHEN:           October 21st 0900-1600
WHERE:        Elmcroft of West Knoxville, 8024 Gleason Drive, Knoxville, Tennessee 37919
WHY:              Mental health problems – such as depression, anxiety, PTSD and misuse of alcohol and other drugs – are shockingly common in the United States. In fact, more than one in four American adults will have a mental health problem in a year. BlueCare Tennessee has been working with communities throughout Tennessee to implement Mental Health First Aid to arm the public with skills to help individuals who are developing a mental health problem or experiencing a mental health crisis. The clinical and qualitative evidence behind the program demonstrates that it helps the public better identify, understand and respond to signs of mental illness, thus improving outcomes for individuals experiencing these illnesses. For more information on Mental Health First Aid, visit www.thenationalcouncil.org.
For reservations please register below or call us 865-336-2624 or register on our
Please register as soon as possible the seats are limited.
Bookings
Bookings are closed for this event.