Addressing Needs for our Veterans:
 You, as an American veteran, are returning home from deployments and combat zones and have witnessed experiences that millions of your follow-countrymen have never experienced.  The vast majority of Americans do not have a clue as to what you have experienced.  Yet, as a veteran, you are coming back into your homeland and into a society that in many ways is foreign to what you have experienced in the past several months or years.  What you desire is to establish some stability, peace and strength in your life once again.  One of the major problems confronting many of you is that it is often difficult to "connect with supportive people and new opportunities" ("A New Focus on the 'Post' in Post-Traumatic Stress." The New York Times, December 25, 2012).
Course Purpose and Rationale: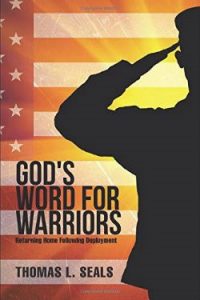 This course of study, "God's Word for Warriors," resolves to address several situations that our America soldiers face in their goal of normalcy in their post-deployment future.  In seeking to assist our veterans in "reconnecting" with our culture, this course begins with the principle that the first "reconnect" must contain a spiritual or faith component.  With this course of study, we hope to address many of the issues the returning veterans face.  This will include how the Word of God addresses many of these post-deployment issues. The designed goal will be the establishment of a growing and deepening relationship with God and fellow-believers.  This course will strive to bring a wholeness of life to each of these veteran-students – spiritually, socially and physically – a life which our Lord desires for all (John 10:10).
Required Text:
Seals, T.L. (2016). God's Word for Warriors: Returning Home Following Deployment. WestBow Press, Bloomington, IN
 Course Description:
 This course begins with the question, "What do the scriptures say about war?" in order to set aside any feelings of guilt and misunderstanding pertaining to a Christian's involvement with the deep concerns of military response to the "enemy."  This subject matter will be followed over a series of weeks in addressing personal issues that affect the conscientious warrior, issues brought about by the tragedies of war.

Retired US Army Captain Maryann Tackett attended Dr. Seals course at Lipscomb University had wrote the following comments after the course.
"Imagine a world where your community courageously rose up and reached out to meet their very own veterans' spiritual needs.
How would that make you feel?
If you said "Great!", then you might have remembered meeting Dr. Seals from David Lipscomb University at our Veteran Boot Camp.  And you must keep reading…
What I'm sharing today is arguably the most stunning approach in history for communities, institutions, churches, etc. to actively reach out to veterans' specific spiritual needs……a discovery that astounded us at VET2VET.
For a long time professionals assumed that veterans would return to their home congregations, use the VA hospital services or other counseling services as they transitioned and all would be well…
…and that rarely works because these require the veteran to reach out and ask for the help usually…
…and the TRUTH is it is hard to transition as a veteran and it is hard to reach out for what you need. Also, it may hard to be around a large crowd or to know how to admit a need for spiritual nurturing. The TRUTH is that our communities need to rise up and reach out.
The good news is that we KNOW   the primary cause of communities not reaching out…and it's not what you think.
Even more astounding is this: we KNOW  what path to take to overcome this dilemma now.
I'll admit, I am excited after reading the book. You see, I am one of those veterans that did not reconnect when I arrived two years ago. So, I volunteered to help CATAPULT our community into action. Join me. PLEASE NOTE: This is a training class to train others to teach GOD'S WORD FOR WARRIORS-Dr Seals book that his course is based on. It is our desire to train leaders to use this as an outreach into our community and especially to members who are veterans."
Professor Tom Seals has authorized the leadership of Vet to Vet Tennessee to teach "God's Word For Warrior" program.  Four members of our organization were trained by Tom and Chad Staggs last week: Mary Ann Tackett, Sam Bargle, Brett Travis and myself.
We have several Veteran/Military Friendly Congregation and Celebrate Recovery Tennessee interested in learning and teaching Tom's mission.  If your interested in learning more please call us at 865-336-2624 or leave us a message below.  Be Blessed.
[contact-form-7 404 "Not Found"]