August 2, 2017
Vet to Vet Tennessee (V2VT) supported Veterans Courts in East Tennessee has a graduation rate of 94% and a two-year recidivism rate for graduates of only 6%.  Graduation – Justice Involved Veteran has successfully completed the TX, graduated from LCVC and has not returned to the justice system
Our dropout/termination rate is 19% compared to the national average rate of 56%.  Dropout/termination rate – Justice Involved Veteran has intentional removed him/herself from LCVC or has been terminated for TX non-compliance by either HRMC or V2VT and returned to the court.
Currently their are six justice involved in the 9th & 10th Judicial District Veterans Courts supported by V2VT. 
Thanks to all of you for your continued service and sacrifice to our veterans, their families and the community.  If your community is interested in starting a Veterans Court/Track or want to become a Veterans Court mentor or just need support, please contact us at 865-336-2624 or leave us a message below.
Please help V2VT to continue to serve Veterans and their families in our Veterans Courts in our rural southeaster Tennessee.  We are a 501(c)3 veterans advocacy group; 100% of our donations go directly to their care.
April 5, 2017 Madisonville, Tennessee
A Navy 22 year old Dallas Grant graduates from the Monroe County Veterans Court on Wednesday April 5, 2017 in Judge Dwaine B. Thomas' courtroom.
The courtroom was filled with Monroe County public officers, Helen Ross McNabb Military Services Centers therapist, 2 former MCVC graduates, Vet to Vet mentors and DAV mentors. According to Dallas, who gave a very emotional speech, he stated that the program including his Helen Ross McNabb Therapist Tony Weaver and his Vet to Vet Tennessee Mentor Coordinator changed his approach to life and view his future as bright.  Read the full story.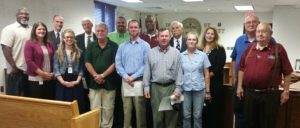 December 6, 2016 Loudon,Tennessee
The Knoxville Regional Veterans Mental Health Council and Vet to Vet Tennessee are very proud of Michael McGrail (USMC) and USMC James Wood for their hard work and dedication to their own recovery.  Dr. Melissa Rose, McNabb's therapist, successfully facilitated their treatment plan (TX);  James & Michael were the first 2 Loudon County Veterans Court veterans to graduate after completing their TX with HMMS.  Read the full story
The Knoxville Regional Veterans Mental Health Council and Vet to Vet Tennessee has and is following the Tennessee Supreme Court Administrative Office of the Court's one year study recommendations on Veterans Treatment Courts. 
The AOC concluded "the AOC concludes that legislation establishing a uniform, statewide VTC system in 2013 is neither necessary nor preferable.  To the contrary, the AOC concludes that such a system would be detrimental.  The most effective and cost-efficient method of assisting the largest number of men and women who have served this country is to permit each judicial district to retain the discretion to address this issue after considering the available resources and the needs of the relevant populations".  Click here to read the full report.
All Vet to Vet Tennessee Veteran Court Mentor Coordinators and Mentors have been trained by Justice For Vets (J4V). The latest J4V Veteran Mentor corps Boot Camp Program was presented in Smyrna Tennessee on September 28th & 29th.  The presentation lead by J4V Project Director David Pelletier, J.D., was superior to the other programs V2VT mentor coordinator's attended; several members have attended as many as three J4V boot camps.
[contact-form-7 404 "Not Found"]